Introduction
My name is Mistress Manita and I have my own studio where I work as a professional Dominatrix in Zaandijk (the Netherlands). In my private life I'm also very active in the BDSM scene and I like to visit fetish- and BDSM parties on a regular base.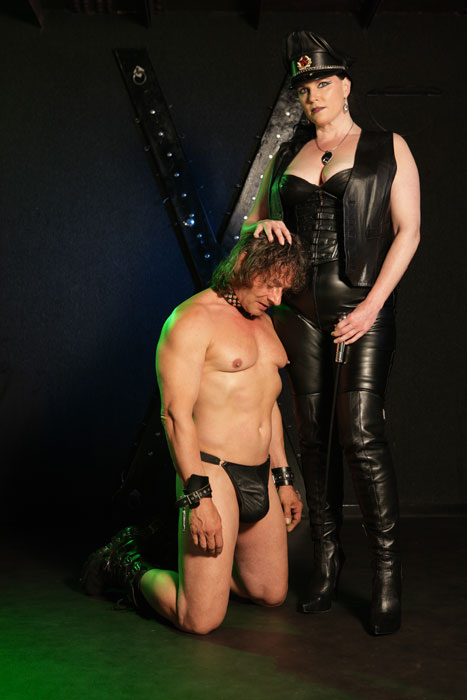 On a personal level I very much enjoy playing SM sessions with my slaves or masochists. That's also the reason why having a SM session with me is such an extraordinary and spontaneous experience. Of course I'm also willing to listen to the wishes of my slaves and masochists. But they have to understand that my enjoyment during a session, is as important as theirs. I prefer to play hard, with rewards for endured pain or humiliation. The larger the endurance, the nicer the reward
History
Since my early childhood I am a Dominant person. I didn't rest before the other children (sometimes with the help of my verbal or physical powers) did exactly what I wanted them to do. Later, when I was in a swingers club, exploring the limits of my sexuality, someone very dear to introduced me into BDSM.
To my very surprise I got sexually aroused by dominating another person, even without physical contact. The power of control over pain or pleasure and the total devotion of a slave or masochist to my will, offered me long sought feelings.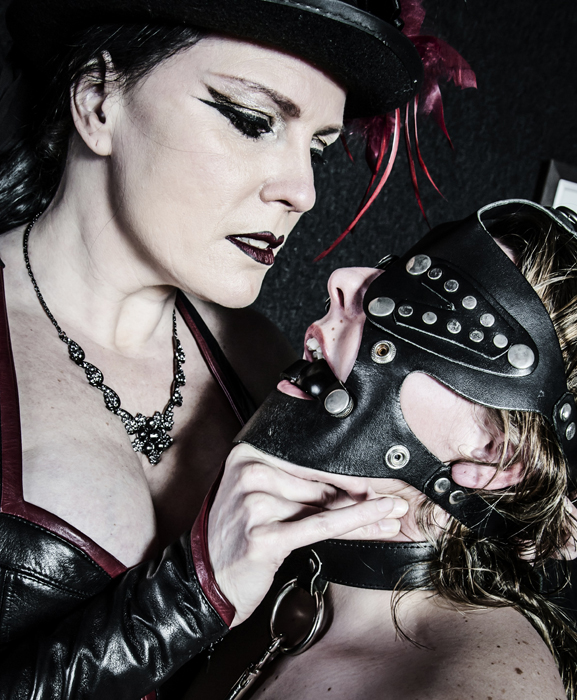 After practicing SM privately, I decided to make my hobby into my work. In the studio of the very experienced Mistress Maxime in Amsterdam, I learned the last "tricks of the trade" in being a professional Dominatrix. During the time I worked with Mistress Maxime I had the opportunity to learn about techniques and play forms, I wouldn't have got to know privately. Therefore I am Mistress Maxime very grateful for the many things I learned under her guidance. On the other hand it gave me the opportunity to find out more about my own preferences during a SM session. Especially the harder forms of SM I like most. Slaves ( both male and female ) and masochists looking for a truly hard, leather clad and demanding Mistress, will feel their place at my high heeled feet. Probably my strongest weapons of correction are my beautiful and powerful eyes. Just by looking I can break the will of most rebelling slaves or masochists. My demands are high, both physical and emotional I demand absolute devotion, loyalty and suffering from a slave. But the sweet kisses or loving caresses they receive for endured pain or humiliation, let them quickly forget their sorrow, and will give them the proud feeling of being the slave of " the Mistress ". For beginners, but willing to be trained to obey a dominant Mistress, I can be patient and careful. I know how important a first experience with SM is. Many promising good slaves are lost to the scene for ever because he or she got in the hands of a non-professional, money hungry so called Mistress.
My Fetish
Every person has a fetish I think, although many people, because of their small minds, don't dare to admit it. My absolute fetish is leather. Wearing leather outfits, combined with high heeled shoes or boots, gives me the ultimate feeling of being a Mistress.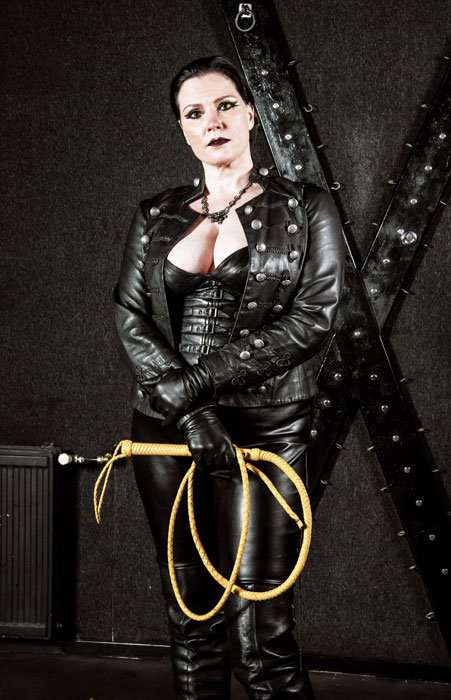 Slaves or Masochists won't see me very often without a leather outfit. Sometimes in combination with sexy and revealing lingerie, but always something made from leather.