Click here for our partyagenda
The organisation of my SM-Fetish Play Party
Since February 8th 2002 I have organised my SM Fetish Play Parties every second Friday of the month on the Showboat in Zaandijk. I can safely say that these parties have become widely known in the national and international world of BDSM.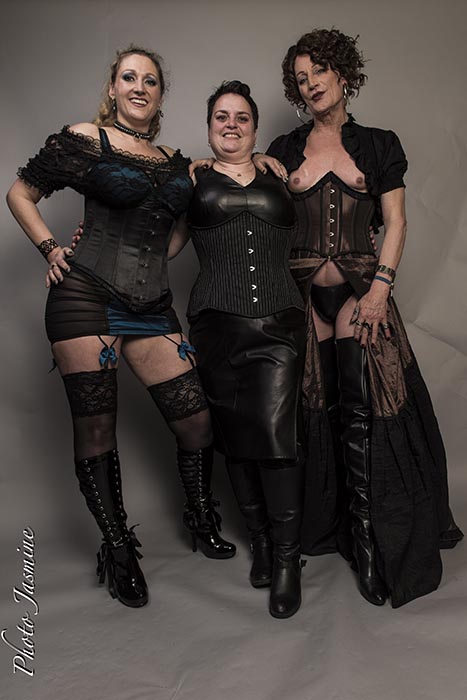 The very combination of a Fetish Party, with the relevant strict clothing standards, and an active BDSM play party turned out to be a direct hit. My party hosts up to 300 guests, and is therefore small enough to create an intimate ambience, and big enough not to become a home or club house party, even though such parties can be good fun as well.
Entrance policy
We maintain a strict entrance policy. Access is not possible without a reservation and a strict dress code must be observed. In the case there are any doubts as to whether certain clothing meets our requirements, I will be the only one to decide on access. Unaccompanied men are welcome, but we do prefer to maintain a balance in the number of couples and men, and will see to it that they do not interfere with the couples present.
Dresscode
Lacquer, Leather, Rubber, PVC, Fetish Glam, Gothic, Medical, Body Art, Cross-Dress, Plastic, Uniform, Kilt, Body Art, Bondage, Burlesque, Lolita, Cat Girl, Age Play and a smart black suit including tie or smoking jacket.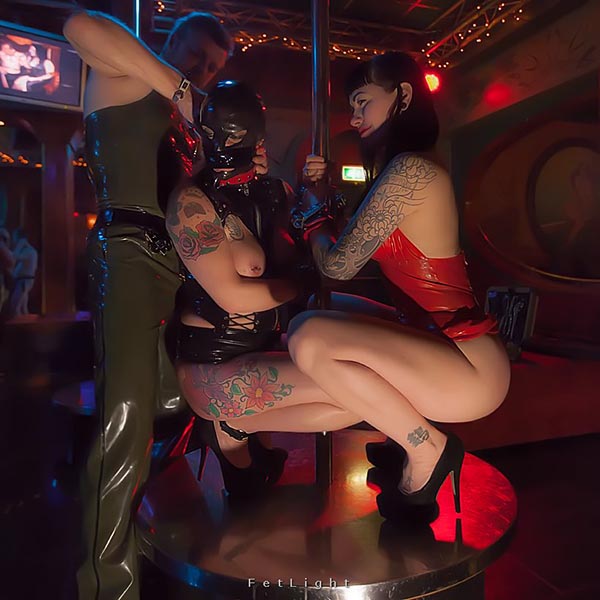 Mind you, that the complete suit, including tie, has to be worn the whole night. This means no fabric underwear, boxers, lingerie outfits, nude ( or under guidance of a Dominant ) or casual clothing such as trainers, jeans, T-shirts and sweat shirts. To put it simply: no clothes that you would wear to visit your grandmother.
Accommodation
The Showboat, which is normally a couples club, provides an ideal setting for the organisation of this sort of parties with some adjustments. Several locations are created with opportunities to play at the party in addition to the existing SM room. There is ample room to change and everybody will have a numbered locker. The number can be used to order drinks at the bar. A shower can be taken before, during or after play; towels are free and in abundance in each room. BDSM acts or a show are performed at each party; the opportunity for you to perform a show can of course be provided in consultation. There will be a stand at each party selling clothes and/or accessories.
Entrance
We deliberately maintain a low entrance fee to make my party accessible for anyone.
The entrance fee for:
couples € 25.00 with a minimum bar tariff of € 30.00
unaccompanied men is € 25.00 with a minimum bar tariff of € 15.00
unaccompanied women is € 12.50 with a minimum bar tariff of € 15.00
Around 23:00 we serve a warm and cold buffet of sweets & snacks.
Opening hours
The party's opening hours are between 21:00 and 04:00
The play locations can be used between 21:00 and 03:30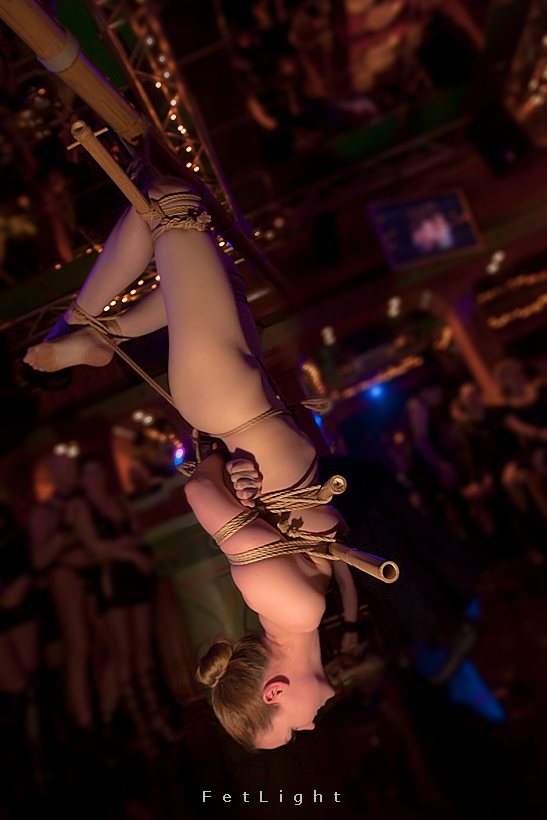 Music and dancing
At my Fetish Parties we have a professional DJ, a spacious dance floor and a high-quality light and sound system.
The style of music is reasonably quiet but makes good dance music. We play tasteful music in the play locations downstairs in the ship.
Address of the venue
The Showboat
Lagedijk 328
1544 BX Zaandijk
Directions
Click here for a route description to the Showboat
Comments or questions
Should you have any questions or comments on my parties, please contact me on my e-mail address: manita@mrs-manita.com or by telephone Mondays to Fridays between 11:00 and 21:00 hrs on my telephone number: +31 (0)6-23972607
Reservations
Access is not possible without reservations; reservations can be made through the e-mail address: partyinfo@mrs-manita.com or at the above telephone number.
Taxi service Showboat
Order cheap and easy a taxi to the Showboat or home and always travel at reduced rates!
Hans Taxi 0031 (0) 630881481
Hotels